Investing: Gold, Silver Ready for Another Rally Attempt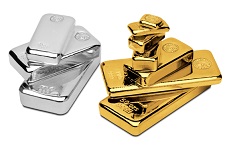 Article by Chris Vermeulen in Investing
After nearly three weeks of sideways/downward price action in gold and silver, our researchers believe both metals have already set up another breakout/rally attempt after breaching downward resistance.
This could be another huge opportunity for precious metals traders as the next move higher should prompt a rally above recent highs. That means a target price level in Gold above $2100 and a target price level in Silver above $30.50.
GOLD DAILY CHART
We expect Gold to rally to levels near $1995, then stall a bit before breaking clear of the $2085 level and pushing well above the $2150 as a new rally phase begins. At this point, we believe the upside move to break the resistance channel is key to starting this upside price recovery.
SILVER DAILY CHART
The setup in Silver is very similar and, in many ways, a bit clearer on the chart. The CYAN downward sloping price channel is very clear.
Price is very close to breaking above this channel. We believe the next move in Silver is a rally to levels near $28, then stalling briefly before the next "appreciation" phase begins pushing Silver above $31.50.
Remember, what we are calling the "appreciation phase" is really a much longer ...
To read this article in Investing in its entirety and view the relating charts, click here.