Investing.com: Gold And Silver to Skyrocket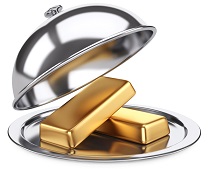 Article by Andrew Lane in Investing.com
The news headlines and price action would imply that traders across the globe have finally accepted that inflation is running hot despite the best efforts by Powell to deceive; it isn't transitory.
Yesterday we saw a rip-roaring 30-year high when the CPI was released. Unlike previous high numbers, gold and silver rallied. Gold sliced through the $1835/oz level like it wasn't there, and silver briefly stuck its head above $25/oz before retracing slightly.
The big question now, is can this rally be sustained? The charts clearly show both have broken out of their near five-month consolidation period. This is highly bullish.
Furthermore, yesterday's rally occurred on the backdrop of a massive dollar rally and climbing yields which is all the more impressive.
The following major resistance levels for gold are $1920 and for silver $26. If we continue to see intraday dips bought aggressively, then this could have the legs to go a lot higher. We have also seen buying of strength instead, which is a clear sign of a bull market resumption.
There is a confluence of fundamentals favoring gold and silver at present. If the transitory narrative is rearview mirror stuff, gold and silver could be at the start of an absolute higher tear. How high? Well, this camp never makes price predictions because it is virtually irrelevant in such manipulated markets.
However, if we are to compare the rallies of the past in the metals in similar conditions (we could make an easy argument to say we haven't even scratched the surface of the complex environment we find ourselves in today), then look at today's prices and multiply gold by 3 and silver by 6.
Cycles have proven these metrics as a reasonably good guide. If we are looking at gold and silver's inflation-adjusted prices, very ......
To read this article in Investing.com in its entirety, click here.