Bloomberg News: Gold is on the Rise Along with Unemployment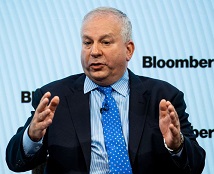 Article by Barry Ritholtz in Bloomberg News
The pandemic has changed the state of the economy and with it the most attractive risk assets, according to this week's guest on Masters in Business, economist David Rosenberg.
He expects rates to remain very low for as far as the eye can see, with deflation a bigger risk than rising prices. He believes this is an ideal environment for gold to appreciate and he is betting on the metal.
Rosenberg, the former chief economist at Merrill Lynch, notes of the 10 million jobs recovered since the 2008-09 financial crisis, all of those -- and more -- were lost during the first month of the coronavirus crisis. Worse yet, the jobs newly created since the end of the Great Recession included many of the low-skill, low-wage variety -- jobs that generally don't offer the possibility of working remotely from home. He expects at least 10 million of these sorts of jobs will never be regained.
There are now 41 million unemployed workers, and it will get worse before it gets better, according to Rosenberg. He noted that the U.S. economy already was on thin ice, with low corporate capital investment and expenditures, and little profit growth ...
To read this article in full and listen to the audio of the entire interview, click here.