Newsmax Business: Gold Prices to Soar as Savvy Investors Seek Haven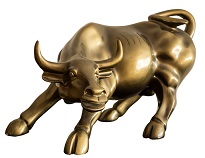 Article by By Richard Agu in Newsmax Business
The fate of gold as an investment has received mixed reactions from various stakeholders including analysts and investors.
If you are a savvy follower of the precious metals market, then you must have noticed how volatile the gold price has been in the past few years.
Gold has become the go-to commodity in the opening days of 2019 as investors contemplate a deteriorating worldwide outlook and factor in fewer, if any, Federal Reserve interest rate hikes this year, Bloomberg reported.
"This rally in gold is based on investors increasingly realizing that gold is 'safe money,'" Rainer Michael Preiss, an executive director at Taurus Wealth Advisors Pte, told Investing.com before prices recently topped $1,300.
Preiss cited the potential downturn in the global economy, possible central bank policy mistakes, and rising U.S. debt burden among factors spurring demand.
Meanwhile, Metalla Royalty & Streaming director E.B. Tucker reportedly predicted that gold's price is expected to hit $1,500 an ounce this year alone, signifying one of the major growths in the past few years. Gold rose 1.4 percent to $1,299 an ounce late Friday, Bloomberg reported.
Is Gold a Safe Haven?
So, what exactly is the cause of all the buzz around gold all of a sudden? According to multiple analysts, the main reason as to why many investors are being drawn to gold is because it is considered a safe haven.
One of the core components of a safe haven asset is that it tends to retain its value even when the market corrects; this is why investors are resorting to gold as a "store of value" in case the economy encounters a downturn.
Past trends have shown how gold has long been considered a safe haven, more so during times of political instabilities, uncertainty in currencies, and equities or during economic recessions.
Maxwell Gold, director of investment strategy at Aberdeen Standard Investments, recently told Dow Jones that gold tends to provide the perfect hedge when the market is affected by global events such as the one experienced in the 2008 financial crisis.
What to Expect of Gold Prices in 2019
George Milling-Stanley, the head strategist at State Street Global Advisors, predicted the price of gold in 2019 will continue to be influenced by the same variables as those in 2018. Other than that, U.S. stocks will not receive support from an increase in federal-funds rate and the boost from the 2017 tax cuts will also not come into play this year.
These, among other factors, are expected to leave the dollar vulnerable, thereby paving way for an increase in the value of gold.
Meanwhile, economic reforms and the dwindling stability, as the IMF has warned, in financial markets are likely to be major boosts to the precious metals market too.
What's the Way Forward?
This seems like the perfect time to buy gold since many variables that have been against it are slowly shifting favorably, and as Jonathan Sacks once said: "The wisest rule in investment is: when others are selling, buy. When others are buying, sell. Usually, of course, we do the opposite. When everyone else is buying, we assume they know something we don't, so we buy. Then people start selling, panic sets in, and we sell too."
Right now, other investors seem to be selling off; There's no better time to be buying.
To read this article in Newsmax Business, click here.