Investor Place - Gold Prediction: Jerome Powell Just Made This the "Trade of the Decade"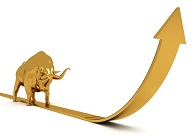 Article by Eric Fry in Investor Place
Gold might be the "Trade of the Decade"… just like it was during the first 10 years of the current millennium.
In 2000, gold had been an undeniable loser for the preceding 20 years and seemed destined to forever remain a "barbarous relic," as British economist John Maynard Keynes famously scorned the yellow metal.
At the start of the millennium, as you may recall, the dot.com bubble was propelling stocks to spectacular heights — producing millions of day-trading geniuses. Making money in the market seemed so effortless, and so automatic, that few investors bothered to consider poorly performing alternatives like gold.
But just as nature abhors a vacuum, the financial markets abhor an extreme. And that's exactly what the financial markets were serving up in early 2000 — extreme bullish sentiment for stocks and extreme bearish sentiment for precious metals.
These extremes were reason enough for a contrarian-minded investor like Bill Bonner to take the other side of those trades.
A Reversal of Fortunes
As we now know, that two-part trade performed brilliantly! From the end of 2000 through the end of 2010, the gold price soared more than 400%, while the S&P 500 Index fell 6%!
Even after including dividends, the S&P 500 returned just 14% during those 10 years.
This most recent decade has not quite run its course. But the divergent fortunes of gold and stocks are clear.
Obviously, there is nothing scientific about measuring investment returns decade-by-decade. The financial markets do not follow the Gregorian calendar; they follow and/or anticipate financial trends.
But the two 10-year time frames I presented clearly illustrate the tendency of financial markets to cycle from lows to highs, and back to lows again. And as it happens, gold and stocks tend to cycle inversely from one another. Gold tends to move higher when stocks are moving lower, and vice versa.
At the moment both gold and stocks seem to be anticipating good things to come. They are both in rally mode.
Let's hope that continues for a good long while. But the gold rally may be more long-lived and powerful than the stock market rally. In fact, I expect the yellow metal to perform better than the overall stock market from now until the end of 2030.
What's Bad for the Dollar Is Good for Gold
For starters, Federal Reserve Chairman Jerome Powell reiterated on Thursday that he and his Federal Open Market Committee colleagues intend to hold interest rates close to 0% and to maintain the Fed's "easy" monetary policy for years to come.
That posture is great for gold, mostly because it is negative for the U.S. dollar. After Powell's comments yesterday, the dollar tumbled close to its two-year low. The trillion-dollar stimulus plans of both Republicans and Democrats could put additional downward pressure on the dollar.
In other words, both politicians and the Federal Reserve will be providing tailwinds to the gold market as we head into 2021.
Those same tailwinds will likely propel stocks higher as well … at least initially. But as the stock market moves deeper into ....
To read this article in Investor Place in full and view the relating charts, click here.