Bloomberg News: Gold Watchers Say Don't Rule Out U.S. Election Turmoil Yet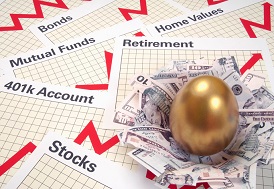 Article by Yvonne Yue Li & Ranjeetha Pakiam in Bloomberg News
The stock market is riding high, taking Joe Biden's widening lead in the polls as a sign to discount the odds of a contested election. But some investors say it's too soon to count out turmoil just yet, and that gold is poised to benefit from the uncertainty.
Fears eased this week that the election would fail to produce a clear winner, with traders pointing to polls suggesting a stronger lead for Democratic hopeful Biden. The possibility of a close vote and messy aftermath had made markets nervous in recent weeks while bolstering hopes for haven assets such as gold.

Strategists including those at State Street Global Advisors and Invesco Ltd. say heated rhetoric and still-simmering worries about the possibility of a protracted battle over the outcome will reinvigorate demand for the metal after its rally stalled last month. Concerns on President Donald Trump's prognosis after testing positive for Covid-19 only add to the uncertainty.
"Despite some polls indicating Biden's lead is widening, I would not assume the risk of a contested election has dropped, although I know that's what many are concluding," said Kristina Hooper, chief global market strategist for Invesco Advisers, which manages $1.1 trillion for clients. "A lot can happen between now and the election, and I do believe gold can benefit from it."
Under-Appreciated Risks

Risks surrounding the election may "be under-appreciated by precious metals markets," according to Citigroup Inc. The bank said late last month those concerns could help push bullion to a record by year-end. Spot gold hit an all-time high of $2,075.47 an ounce in August and was at $1,890.92 on Wednesday.

"Gold thrives on uncertainty: we've never had an election in my experience in the U.S. that is as uncertain as this, and as uncertain a political environment as this," said George Milling-Stanley, chief gold strategist at State Street Global Advisors.

"We've been fooled by the polls before, so there remains a lot of uncertainty around the outcome," Wayne Gordon, executive director for commodities and foreign exchange at UBS Global Wealth Management, said on Bloomberg TV. "Gold is still an excellent diversifier within the portfolio context for people wishing to hedge against these uncertainties we have coming towards us."
Gordon recommended buying gold in ...
To read this article in Bloomberg News in its entirety, click here.