CNBC: The Government Budget Deficit is About to Explode to Fight the Coronavirus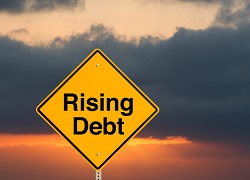 Article by Jeff Cox in CNBC financial
Remember when people were all worked up over trillion-dollar government budget deficits? Those might seem like the good old days, once Congress and the White House finish the coronavirus rescue package expected to be approved in the next few days.
Estimates of just how big the final bill would be vary, but it's assured that it will be a historic moment for sheer fiscal force being exerted at a time of economic duress.
Administration statements over the past few days point to something on the order of $2 trillion in economic juice. By contrast, then-President Barack Obama ushered an $831 billion package through during the financial crisis.
That type of fiscal burden comes as the government already has chalked up $624.5 billion in red ink through just the first five months of the fiscal year, which started in October. That spending pace extrapolated through the full fiscal year would lead to a $1.5 trillion deficit, and that's aside from any of the spending to combat the coronavirus.
Already, the national debt stands at more than $23.5 trillion and will be on track to eclipse $25 trillion. Taxpayers shelled out $574.6 billion in fiscal 2019 on interest payments for the debt and another $229.1 billion in fiscal 2020.
In short, the shock from the COVID-19 spread will blow a fiscal hole through Washington, D.C., that could take years if not decades to patch.
Most debt since World War II
Moody's Investors Service has been warning about deficit issues for some time, and said Friday that its previous scenarios are likely to look worse as government spending accelerates.
To read this article in CNBC financial in its entirety, click here.