Business Insider: Legendary Investor Jeremy Grantham Says He's Certain the Stock Market is in a Bubble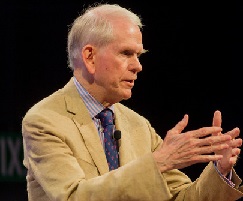 Article by Emily Graffeo in Business Insider
Legendary investor Jeremy Grantham told CNBC on Thursday he's certain the stock market is in a bubble following its "powerful, rapid, and, in many areas, truly crazy" rally from March lows.
"The more spectacular the rise and the longer it goes, the more certainty one can have that you're in the 'Real McCoy' bubble," the cofounder and chief investment strategist of asset management firm GMO said.
Grantham also said that the stock market has its own "psychological node" and behaves independently from economic realities.
"The market can go up on bad news and go up on good news," Grantham said. "It can interpret a Trump victory as bullish and then seamlessly interpret a Biden victory as bullish. There are all the characteristics of a bubble. There's nothing much you can throw at when it gets going."
A successful vaccine or a second fiscal stimulus in the US won't change the fact that the stock market is in a bubble, he added.
Grantham's successfully called three market bubbles in the past: Japan's asset-price bubble in 1989, the dot-com bubble in 2000, and the housing crisis in 2008.
"I've never had any allusions about my ability to time the bubble breaking, I have a very low definition of success," said Grantham. "It's just sooner or later, the market will be lower ...
To read this article in Business Insider in its entirety, click here.