Business Insider: Jeremy Grantham Says US Stocks Are in a Crazier Bubble Than in 1929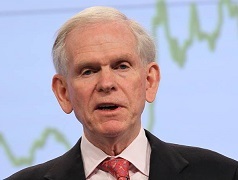 Article by Harry Robertson in Business Insider
US stocks are in an even crazier bubble than before the great market crash of 1929 that preceded the Great Depression, legendary investor Jeremy Grantham has said.
Yet Grantham told CNBC on Tuesday that the end of a stock-market bubble is "like killing off a vampire." He said markets were so confident that they just shrug off any bad news.
However, Grantham said that can't last forever and he expects sharp falls in the coming months.
The famous investor, who cofounded investment firm GMO, told CNBC on Tuesday equities are in a "magnificent bubble" in the US.
"This has been crazier by a substantial margin than 1929 and 2000, in my opinion," Grantham said. The year 2000 saw the internet stock dotcom bubble collapse.
Grantham said he thinks the S&P 500 is likely to decline 10% or more in the coming months. He pointed to the popularity of so-called meme stocks, special purpose acquisition vehicles (SPACs) and cryptocurrencies as signs that financial markets are extremely confident and are due for a fall.
"The market is so into optimism that even as the data turns against it, as it is today, the market shrugs it off," he said.
Grantham is a widely respected investor and market analyst who has a track record of spotting stock-market bubbles as they develop.
Grantham said stocks were in a bubble in June 2020, since which time the S&P 500 has risen around 40%. He told CNBC that no-one .......
To read this article in Business Insider in its entirety, click here.