Business Insider: Former Fed Chair Alan Greenspan Says Inflation is 'Major Concern' as Deficits Get 'Out of Hand!'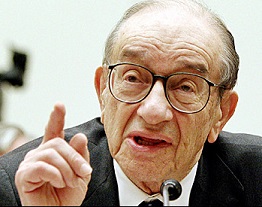 Article by Emily Graffeo in Business Insider
Alan Greenspan told CNBC on Thursday that the critical issues facing the US are inflation, the unknowns surrounding the coronavirus, and the budget deficit.
The former chairman of the Federal Reserve said that the US is underestimating the size of the budget deficits that are down the road, as the number of Americans retiring and receiving entitlements increases. While much about another critical issue, the coronavirus, remains unknown, Greenspan said he is certain there will be an "extraordinary increase in retirement" ahead.
Budget deficits have increased as the government has spent to help the economy through the pandemic. The federal budget deficit reached a record $3 trillion in August.
"We've got to resolve the budget deficits that are getting out of hand,"Greenspan said.
"My overall view is that the inflation outlook is unfortunately negative and essentially the result of a huge increase in entitlements that are crowding out private investment and productivity growth, which is slowing down to about a 1% annual rate," he said.
Greenspan added: "All in all my major concern is inflation. It obviously hasn't emerged in any significant way as yet, but I think that's the area where our problems ....
To read this article in Business Insider in its entirety, click here.