Market Watch: Guggenheim Says The Ensuing Stock Market Fall Will Be Brutal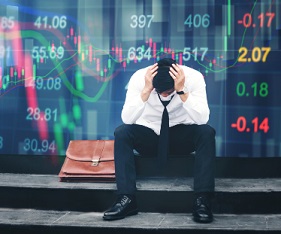 Article by Sunny Oh in Wall Street Journal Market Watch
Welcome to the calm before the storm!
Asset-management firm Guggenheim has some good news and some really bad news for Wall Street: The coming recession will be milder than past recessions — that's the good news. The bad news is that the stock market is still likely to suffer a savage beatdown as an economic downturn sets in as early as 2020.
However, despite a relatively soft landing for the economy, equity benchmarks are likely to see a severe slump, partly due to lofty valuations and a lack of available fiscal and monetary policy tools, analysts at Guggenheim Investments led by Scott Minerd wrote in a Tuesday research note.
"Given that valuations reached elevated levels in this cycle, we expect a severe equity bear market of 40–50 percent in the next recession, consistent with our previous analysis that pointed to low expected returns over the next 10 years," Guggenheim said. Those predictions amount to a severe bear market.
To read this article in Wall Street Journal Market Watch in its entirety, click here.