Business Insider: Billionaire Investor Jeffrey Gundlach Warns Stocks are Hugely Overvalued - and Amateur Traders Will Worsen the Coming Crash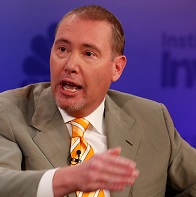 Article by Theron Mohamed in Business Insider
Billionaire investor Jeffrey Gundlach sounded the alarm on stocks and predicted a painful crash on DoubleLine's Total Return Webcast last week.
Suggesting the stock market is "anything other than very overvalued versus history is just to be ignorant of all the metrics of valuation," the DoubleLine Capital boss said.
Gundlach gave that reply when asked whether he agrees with Michael Burry of "The Big Short" fame that markets are in a "speculative bubble" and will suffer a "dramatic and painful" decline. He voiced a similar view, saying stocks would fall much more than 15% when the downturn comes.
The so-called "bond king" predicted that many retail investors will cash out when equities turn south, exacerbating the inevitable correction. "We'll have a tremendous unwind of a lot of the money that thinks that the stock market is a one-way thing," he said.
Gundlach also issued a stark warning about federal spending during the pandemic. "We're pretty clearly in a speculative bubble regarding debt and government activity," he said.
Gundlach made several calls during the webcast. He expects year-on-year inflation of over 3% in June or July, the dollar to weaken in the coming months, and gold prices to bounce back.
Gundlach also criticized President Biden's $1.9 trillion stimulus bill, which was signed into law last week. He called it "shocking" that couples with a household income of $150,000 and three children are set to receive $6,000 in federal support.
Stimulus initiatives are "cooking all of us frogs in a pot," he said, comparing them to "monetization" programs where governments fund themselves by printing money instead of collecting taxes or borrowing.
"The biggest problem is that we've .....
To read this article in Business Insider in its entirety, click here.