CNBC: Household Debt Jumps the Most in 12 Years, Federal Reserve Report Says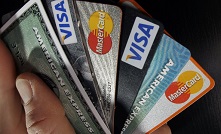 Article by Jesse Pound in CNBC financial
Household debt surged in 2019, marking the biggest annual increase since just before the financial crisis, according to the New York Federal Reserve.
Total household debt balances rose by $601 billion last year, topping $14 trillion for the first time, according to a new report by the Fed branch.
The last time the growth was that large was 2007, when household debt rose by just over $1 trillion.
Fed economists said on the Liberty Street Economics blog that the growth was driven mainly by a large increase in mortgage debt balances, which rose $433 billion and was also the largest gain since 2007.
Housing debt now accounts for $9.95 billion of the total balance. Balances for auto loans and credit cards both increased by $57 billion for the year, according to the Fed.
The economists said in the blog post that credit cards have again surpassed student loans as the most common form of initial credit history among young borrowers, following several years after the crisis when student loans were higher.
"The data also show that transitions into delinquency among credit card borrowers have steadily risen since 2016," Wilbert Van Der Klaauw, senior vice president at the New York Fed, said in a statement.
To read this article in CNBC financial in its entirety, click here.