CNBC: Carl Icahn Warns That the Market Rally Could End in a Painful Correction and is Hedging Accordingly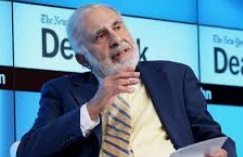 Article by Jesse Pound in CNBC financial
Billionaire investor Carl Icahn warned of the possibility of a significant decline for stocks at some point, telling CNBC's Scott Wapner that "wild rallies" in the market always meet a dramatic end.
Wapner reported Icahn's warning on "Halftime Report" during a turbulent day for the stock market.
"In my day I've seen a lot of wild rallies with a lot of mispriced stocks, but there is one thing they all have in common. Eventually they hit a wall and go into a major painful correction. Nobody can predict when it will happen, but when that does happen, look out below," Icahn said. "Another thing they have in common is it's always said, it's different this time. But it never turns out to be the truth."
The investor declined to go into the specifics of his positions, but did tell Wapner that he was well hedged.
The rapid rise and ballooning valuations for stocks have made some Wall Street strategists wary of the market's path in ....
To read this article in CNBC website in its entirety, click here.