Market Watch: U.S. Stock Market is Overvalued, IMF Says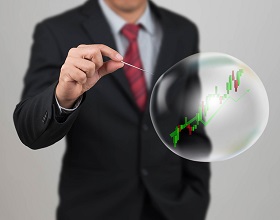 Article by Greg Robb in The Wall Street Journal Market Watch
An environment of low interest rates has set off a search for yield and created stretched valuations in risk assets, including the U.S. equity market, according to an International Monetary Fund report released Wednesday.
"Equity markets appear to be overvalued in Japan and the United States," the IMF said, in its latest Global Financial Stability report.
When markets have stretched valuations, it raises the possibility of sharp sudden adjustments, the report warned.
The IMF said investors seem to believe that the Federal Reserve and other central banks will respond quickly to sharp tightening in financial conditions, "hence implicitly providing insurance against significant declines in stock prices."
The belief in a central bank rescue is allowing investors to ignore tensions over international trade policy and uncertainty about the global economic outlook, according to the IMF.
To read this article in Market Watch in its entirety and view the relevant charts, click here.