Fox Business: Rand Paul Releases Report on Rising Inflation: 'It's Only Going to Get Worse'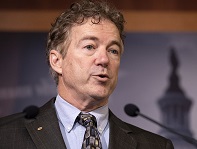 Article by Marisa Schultz in Fox Business
Paul, the top Republican on the Senate Committee on Small Business and Entrepreneurship, blames the 7% spike in consumer prices – a 40-year high – on excessive coronavirus relief spending by Congress, and warns the rising prices are "only going to get worse."
"In recent months, prices on nearly everything from gas, food, and clothes to electricity, car prices, and rent, have all increased, and unfortunately it's only going to get worse," Paul said in a statement released first to Fox News Digital. "Congress needs to realize that further spending at this time of rapidly rising prices is only going to continue the trend of rising prices on this nation's already vulnerable businesses and families."
Paul's 18-page report is called "The Hidden Tax" and it shines a spotlight on how prices on everyday essential goods have shot up in the last year, citing publicly available price index studies.
As for the cause of the rising prices on everything from fuel to groceries – Paul lays the blame on Congress by passing massive spending in the wake of the pandemic.
"$4.9 trillion in COVID-19 stimulus spending has led to one of the highest and sustained levels of inflation in U.S. history," Paul said in a statement.
Congress passed the $1.8 trillion CARES Act in March 2020 and a $900 billion follow-up relief package in December. Democrats under President Biden passed the $1.9 trillion American Rescue Plan last year.
Paul has been ......
To read this article in Fox Business website in its entirety, click here.