CNBC: Workers See Their Paychecks Get Smaller as Inflation Continues to Rise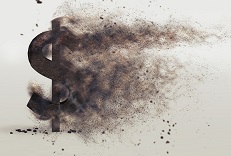 Article by Jeff Cox on CNBC Financial
While the rest of the economy pointed higher in July, American workers took a step backwards.
Hourly and weekly earnings languished when factoring in the rise in cost of living, according to figures the Labor Department released Friday.
Average weekly earnings actually decreased 0.2 percent over the one-month period and increased only fractionally from the same period a year ago. Average hourly earnings were unchanged over the month and actually two cents lower than July 2017.
The readings came during a month that saw core inflation rise at its fastest pace since September 2008. The Consumer Price Index increased 0.2 percent month over month for an annual gain of 2.4 percent, up one-tenth of a percentage point from June and driven primarily by a jump in rental costs.
The decline puts real wages on their worst level since October 2012.
"It was the real wage story that caught our attention," said Ian Lyngen, head of U.S. rates strategy at BMO Capital Markets. The level "speaks to the 'ugly side of reflation' as it undermines consumers real purchasing power."
The figures contrast with a Labor Department reading earlier this month that showed the employment cost index rising at a 2.8 percent year-over-year rate in the second quarter, the fastest gain since the third quarter of 2008. That indicator, which is followed closely by the Federal Reserve, does not incorporate an inflation adjustment.
Not adjusted for inflation, average hourly earnings rose 2.7 percent in July, slightly lower than the second-quarter pace, while average weekly earnings increased 3 percent.
Click here to read this article on CNBC Financial in its entirety