Forbes: Inflation Surge to Continue - Here Are 3 Reasons Why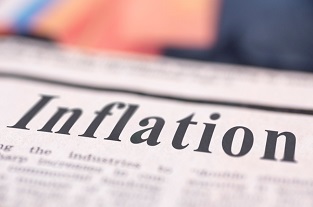 Article by Mike Patton in Forbes
Inflation has been rising since November 2020, largely due to the reopening of the economy – which led to greater consumer demand, plus supply chain constraints. In June and again in July, the consumer price index or CPI rose by 5.3% on a year-over-year basis, marking the largest such increase since July 2008. You would have to go back to February 1991 to find a larger increase.
Despite the Fed suggesting this round of inflation will be transitory, some experts believe otherwise. While we cannot know with certainty how high inflation will rise or how long it will persist, there are a few clues we can turn to. Perhaps the most telling is the producer price index or PPI.
When a company has to pay more to produce their products, they will often pass these higher costs onto the consumer.
In July 2021, prices at the producer level (PPI) rose 7.7% year-over-year while consumer prices (CPI) rose 5.3%. PPI (black line) has been rising faster than CPI since January, suggesting higher prices at the consumer level are inevitable.
Government Spending: Stimulus, Pork, or Catalyst for Inflation?
When the federal government passed the CARES Act in March 2020, there was a strong justification for doing so. For without it, the U.S. would have faced a very dark economic period, some even say a depression. Regardless, federal spending has created the largest government deficit in U.S. history. In the most recent fiscal year ending September 30, 2020, the U.S. had a $3.129 trillion budget shortfall, more than twice the $1.4 trillion deficit during the 2008 financial crisis.
A year after the CARES Act, Congress passed, and President Biden signed, the American Rescue Plan Act of 2021, with a hefty $1.9 trillion price tag. But that's not the end of the spending if the Democratic majority has their way.
On August 11, Senate Democrats approved a budget resolution, paving the way for an additional $3.5 trillion spending bill, just hours after passing a bipartisan $1.2 trillion infrastructure plan. Democrats in Washington are taking full advantage of their majority to transform America into a deeply socialistic country. What is yet to be seen is the impact this excessive spending will have on inflation. What is certain is that this mounting debt burden will be problematic in the future.
Sure, the economy is doing well, but it is largely due to the excessive spending in Washington. If you put enough money into the hands of consumers, coupled with.......
To read this article in Forbes in its entirety and view the relating charts, click here.