Fox Business: Fed Interest Rate Hikes Poised to Make the US National Debt Even More Expensive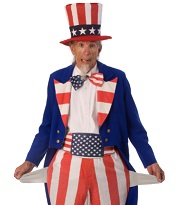 Article by Megan Henney in Fox Business
While most of the recent attention on the U.S. central bank has been focused on whether policymakers will succeed in reducing prices without dragging the economy into a recession, there is another major consequence of higher interest rates: Potential damage to the U.S. government's finances.
That is because as interest rates rise, so too will the federal government's borrowing costs on its $30.89 trillion in debt.
Interest payments on the national debt are already projected to be the fastest-growing part of the federal budget in fiscal year 2022, according to the Congressional Budget Office. Payments are expected to triple from nearly $400 billion in fiscal year 2022 to a stunning $1.2 trillion in 2032 – a total of $8.1 trillion over the next decade.
As a share of the economy, total interest .......
To read this article in Fox Business website in its entirety, click here.