Bloomberg News: The Last Bear Market Was Short-Lived. This One Feels Different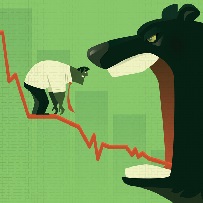 Article by Michael P. Regan in Bloomberg News
It's time to navigate through what traders call a "sea of red," the color used to signal declines in asset prices on their computer screens. Almost everywhere you look right now, it's crimson.
The S&P 500 has fallen more than 20% from its high on Jan. 3, and the Nasdaq-100 has plunged 30% from its November record. Bitcoin has lost two-thirds of its value since it almost touched $70,000 per token seven months ago.
Even a conservative investor, with a sober mix of 60% in stocks and 40% in bonds, is down about 17% this year. And US government bonds, long considered the safest harbor, have lost investors almost 12% in 2022, according to a Bloomberg index of US Treasuries that's having its worst year ever.
Do yourself a favor and don't mentally adjust those returns for inflation, which is the one thing that's up: The US consumer price index is 8.6% higher than it was a year ago.
We've been here before, not so long ago, when the shock of Covid-19 knocked equities down by more than 30% in 2020. But that brief episode was quickly wiped away once investors figured out that policymakers from the Federal Reserve and Congress were on their side, and that they could continue betting on easy credit conditions and more growth. The S&P 500 peaked on Feb. 19 that year and hit its low barely a month later, on March 23; the index was back to record highs by the middle of August.
This time feels different. Assets are going red because traders are letting go of a lot of the thinking and habits they've relied on over the years, and it's hard to say where that adjustment will end.
For one thing, investors are losing the reflex to "buy the dip," which was learned in the decade following the global financial crisis of 2008, when no downturn in the market lasted very long or, until the pandemic, cut very deep. This decline is already more than five months old.
Traders have also drastically ........
To read this article in Bloomberg News in its entirety, click here.