Business Insider: Sunny Days for the US Economy Could End Abruptly if These 2 'Storm Clouds' Hit, JPMorgan's Jamie Dimon Warns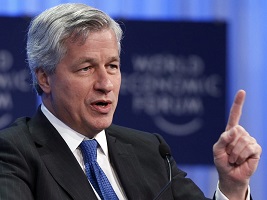 Article by Theron Mohamed in Business Insider
The US economy is enjoying sunny weather, but a storm may be brewing on the horizon, JPMorgan CEO Jamie Dimon has warned.
The country is still riding high on the trillions of dollars of government stimulus during the pandemic, Dimon told Bloomberg on the sidelines of the JPMorgan Tech Starts Leadership Forum on Monday. American consumers are in good shape in terms of savings, debt, and overall wealth, while corporate credit remains solid, he said.
However, Dimon singled out a couple of potential threats to the current situation. "There are two things which are extraordinary today," he said. "Think of them as ......