Markets Insider: Jim Rogers Touts Gold and Silver Over Stocks and Real Estate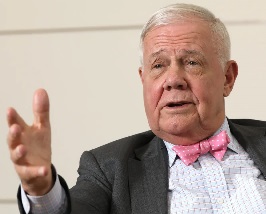 Article by Theron Mohamed in Markets Insider
Jim Rogers expects gold and silver to outshine other assets during a period of historic inflation and widespread worry about a recession.
"If you're in a world where prices are going higher, you want to own the things that are going higher in price," the veteran investor told "The Julia La Roche Show" in a recent interview.
Rogers is best known as George Soros' former business partner, and the cofounder of Quantum Fund and Soros Fund Management. He explained that fast-rising prices make fixed-income assets like bonds less attractive, and the higher interest rates that typically ......