Kitco News: Gold Price Going To $1,700 Soon Says Billionaire Paul Tudor Jones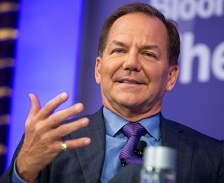 Article by Neils Christensen in Kitco News
Another billionaire investor is sounding the alarm for the U.S. and global economies and is looking at gold as the safe-haven play.
In an interview with Bloomberg News, Paul Tudor Jones, fund manager and create of Tudor Investment Corp., said that his favorite trade in the next 12 to 24 months is gold. He added that if the price can break through $1,400 it will push to $1,700 an ounce "rather quickly."
"Gold has everything going for it," he said.
"We've had 75 years of expanding globalization and trade… and now all of a sudden it's stopped," he said. "That would make one think that it's possible we go into a recession; it would make one think that rates in the United States go back down to the zero; gold in that situation is going to scream. Gold will be the antidote for people with equity portfolios."
Jones comments also follow recent bullish sentiment from other billionaires. Last month, Thomas Kaplan, chairman and chief investment officer of Electrum Group, said in an interview with David Rubenstein on Bloomberg Television that he could see gold prices rally as high as $3,000 to $5,000 within a decade.
To read this article in Kitco News in its entirety, click here.