Bloomberg News: ECB's Lagarde Warns of 2008-Style Crisis Unless Europe Acts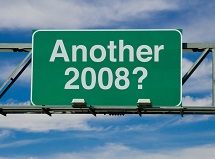 Article by Fergal O'Brien in Bloomberg News
European Central Bank President Christine Lagarde said Europe risks a major economic shock echoing the global financial crisis unless leaders act urgently on the coronavirus outbreak, and signaled that her institution will take steps as soon as Thursday.
Lagarde told European Union leaders on a conference call late on Tuesday that without coordinated action Europe "will see a scenario that will remind many of us of the 2008 Great Financial Crisis," according to a person familiar with her comments. With the right response, the shock will likely prove temporary, she added.
Lagarde said her officials are looking at all their tools for Thursday's policy decision, particularly measures to provide "super-cheap" funding and ensure liquidity and credit don't dry up, said the person, who declined to be identified because the call was private.
BOE Governor Mark Carney echoed Lagarde's view that a proper response would help prevent a global recession.
HSBC economist Simon Wells said that "given this disruption, we believe a euro-zone recession looks unavoidable."
Lagarde warned that the damage will likely spread to other countries. She praised actions taken so far in some areas, but demanded more, the person said. Failure to act boldly now would raise the risk of "the collapse of part of your economies," Lagarde told leaders.
To read this article in Bloomberg News in its entirety, click here.