Fox Business: What is Stagflation? Why Economists are Worrying About a 1970s-style Catastrophe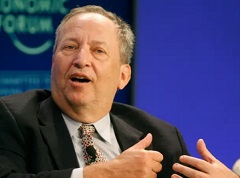 Article by Megan Henney in Fox Business
Soaring consumer prices, supply chain shocks, rising energy costs and a hawkish Federal Reserve determined to bring inflation under control: These are the worrisome attributes of the U.S. economy that have some experts sounding the alarm over a possible return to 1970s-style "stagflation."
Stagflation is the combination of economic stagnation and high inflation, characterized by soaring consumer prices as well as high unemployment. The phenomenon ravaged the U.S. economy in the 1970s and early 1980s.
A telltale sign, and consequence, of stagflation is rising energy prices, according to many economists, who believe it occurs when a sudden increase in the cost of oil reduces an economy's productive capacity.
Some economists believe the U.S. economy is showcasing signs of "stagflation" today, as the Russian invasion of Ukraine sent oil prices soaring.
Americans were already grappling with the hottest inflation in 40 years, which has prompted the U.S. central bank to begin aggressively tightening monetary policy with a series of expected interest rate hikes.
Former Treasury Secretary Larry Summers has accused the Fed of misinterpreting the inflation spike and waiting too long to take action to quell the price spike. By doing so, Summers wrote in a recent Washington Post op-ed, the central bank has paved the way toward "stagflation."
"I believe the Fed has not internalized the magnitude of its errors over the past year, is operating with an inappropriate and dangerous framework, and needs to take far stronger action to support price stability than appears likely," Summers wrote. "The Fed's current policy trajectory is likely to lead to stagflation, with .......
To read this article in Fox Business website in its entirety, click here.