CNBC: After Long Slump, This Could Be Gold Year!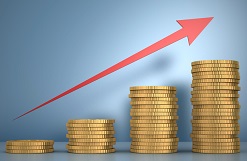 Article by Patti Domm in CNBC financial
Gold prices are hitting eight-month highs, thanks to investors looking for an alternative to stock market volatility.
Prices are also being supported by a weaker dollar and buying by global central bankers and Asian jewelry buyers.
Gold futures closed above the key $1,300 per troy ounce this week, and the February contract closed at a high of $1,308.90 Tuesday.
The changing demand dynamic, and a flight to safety by skittish investors, has changed the prospects for gold and it could perform much better in 2019.
"This could be gold's year," said Suki Cooper, precious metals at Standard Chartered Bank. Since mid-November, when gold was at $1,200, it has gained about 9 percent.
Some analysts expect the precious metal to head toward $1,400 per ounce towards the end of the year.
"We think the price is more likely to make a sustained move higher in the second half of the year," Cooper.
"We think we could see an average [for Q4] of $1,325. You could start to see prices trading toward $1,400 by the end of the year," she said. Gold has not been at $1,400 since September 2013.
"We remain positive on gold," said Jim Steel, head of precious metals at HSBC. "I think the big change that's less spoken about is that financial market volatility is up compared to last year. That would explain why gold has become more popular in the last couple of months."
Steel said 23 different central banks were buyers of gold last year, and that helped support prices. Most prominent were Russia and Kzakhstan.
"They often move together because they all have these same economic rationale. If one central bank has recognized that gold is a good asset to have or to hold in its FX reserves, then it's likely other central banks will arrive at the same conclusion and adopt a similar strategy," he said. "Most of the countries buying have low gold reserves. Those that do have a lot of gold like western Europe or the U.S., they're not buying....We think the central bank purchases will continue on a good vein."
The Brexit uncertainty has also helped gold, and so has the idea of trade wars.
"Geopolitical risks can be supportive of gold," said Steel. "If we were to think we're going to have trade wars, that would be a secondary support to gold."
To read this article in CNBC financial website in its entirety, click here.