Bloomberg News: Roubini Expects a 'Long, Ugly' Recession and Stocks Sinking 40%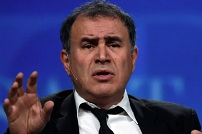 Article by Natalia Kniazhevich in Bloomberg News
Economist Nouriel Roubini, who correctly predicted the 2008 financial crisis, sees a "long and ugly" recession in the US and globally occurring at the end of 2022 that could last all of 2023 and a sharp correction in the S&P 500.
"Even in a plain vanilla recession, the S&P 500 can fall by 30%," said Roubini.
Roubini whose prescience on the housing bubble crash of 2007 to 2008 earned him the nickname Dr. Doom, said that those expecting a shallow US recession should be looking at the large debt ratios of corporations and governments. As rates rise and debt servicing costs increase, "many zombie institutions, zombie households, corporates .......
To read this article in Bloomberg News in its entirety and view the relating charts, click here.