Investment Week: Is Another Global Credit Crisis Looming?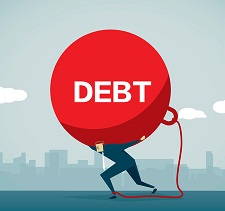 Article by Mike Sheen in Invstment Week
S&P Global Ratings published a report last week that made some worrying observations about the state of the world economy.
It is tempting to say the findings of Next Debt Crisis: "Will Liquidity Hold?" reveal strong parallels to the period preceding the 2008 Global financial crisis.
However, the sheer scale of global debt at present - as well as brand new risks - suggest the current state of affairs could be more severe.
S&P found global debt has surged by around 50% since the last crisis, while global debt-to-GDP ratios have risen to more than 231%, compared with 208% in June 2008.
In absolute terms, the US is the most indebted at a country level after ballooning its debt by $10.6trn over the past decade, while China has grown its credit levels by $5trn and the eurozone is $2.8trn more in debt.
More than 60% of corporations now have what S&P describes as "aggressive or highly leveraged financial risk profiles".
To read this article in Investment Week in its entirely, click here.