Financial Post: Signs of a Looming U.S. Recession are Building, if You Look Beneath the Surface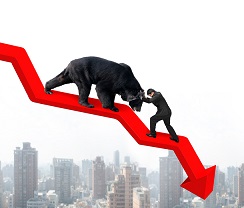 Article by David Rosenberg in Financial Post
I still hear "where's the U.S. recession?" I keep responding with "you're not scratching the surface."
The stock market has ceased to be an economic indicator a long time ago — it is now an asset class that has become addicted to policy stimulus. Look at what happened a month ago when we got that woeful employment report for May — the S&P 500 jumped more than one percent and the Dow leapt 263 points. Look at the monthly real GDP data and there has been no growth at all since February and yet the S&P 500 has rallied 17 per cent. That's all you have to know — we are in a phase where "bad news is good news" and where the bullish case for equities is all about the Fed.
Meanwhile, two of our major macro themes for 2019 are gaining more credence with each passing day — these being the inevitable unwind of the unsustainable corporate debt bubble and the commensurate pullback in business capital spending. The global market for leveraged loans is now a massive US$2.2 trillion and Moody's estimates that 80 per cent of this debt is ranked as "covenant lite," which makes a mockery of the 25 per cent share prior to the 2008 financial crisis.
At the same time, Morgan Stanley's index of U.S. capital spending plans just dropped to a two-year low and S&P Global now estimates that capex growth is poised to weaken this year to three per cent from 11 percent in 2018. But equity investors need not worry, of course, since this means more money for buybacks, which totalled a record US$806 billion in 2018 and the first quarter of this year showed no let up at US$205 billion. Strip out this share-shrinkage effect, and the S&P 500 today would be sitting closer to 2,100 rather than 2,900, another consequence of this extended ultra-low-interest-rate environment.
Gold also has broken out of a six-year trading band and for the right reasons.
The four things we do know with certainty are that: both inflation and interest rates have peaked for the cycle; central banks are turning from hawks to doves; downside global growth risks are rising; valuations in the equity market have been massively inflated by zero-negative interest rates; and economic, trade and geopolitical uncertainties are elevated.
To read this article in Financial Post in its entirety, click here.