Bloomberg News: Everything in the Stock Market Is Being Sped Up Including the Crash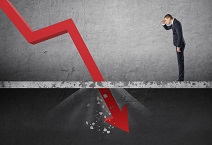 Article by Lu Wang in Bloomberg News
When the nineties ended, an overvalued stock market took three long years to rid itself of its accumulated excess in what is now known as the dot-com crash.
That a similar reckoning has needed just 14 months to play out now is a sign of how fast moving this market is -- and how dangerous it's become for anyone believing they can pick a moment to buy and sell.
The perils were on full display Friday as a hot inflation reading jolted financial markets, shaking the S&P 500 out of a range it had settled into this month. Investors who had seen the index rally 9% since it nearly tipped into a bear market May 20 were blindsided by the latest bout of selling.
Persistent inflation is only the latest threat to a market pounded by a flurry of macro blows. Trying to figure out which matters most has become something of a fool's errand. That's essentially the view of Eric Schoenstein, co-manager of the $9.7 billion Jensen Quality Growth Fund, which according to Bloomberg data has beaten 96% of peers in the past year. With inflation, the Federal Reserve, a pandemic and war bearing down on investor psyches, the only safe bet at this point is that equity volatility will continue.
"It just feels like there's nothing that you could point to and say, 'that's the reason, and if we get this piece cleared up, everything will pass and we can move on to the next iteration,'" Schoenstein said by phone. "With all of that uncertainty, the market is going to pull back, and investors, frankly, are probably in a mode where they're doing a bit more indiscriminate selling."
The S&P 500 tumbled more than 2.5% as of 11:05 a.m. in New York Friday, as unexpectedly hot consumer-prices fueled bets the central bank will have to toughen its battle against inflation. Down almost 5% over five days, the index in course for its worst week since January.
That tendency to sell whatever you can has contributed to an epic drop in valuations. After peaking above 30 times earnings a year ago, the S&P 500's multiple shrunk by roughly 40% through its trough in May -- almost matching the size of the contraction during the entire 2000-2002 crash.
In other words, the correction to valuations is happening three times faster than the bursting of the internet bubble.
To Bloomberg Intelligence's Gina Martin Adams, the accelerated drawdown reflects how much the post-pandemic equity rally relied upon the Fed. Once the central bank turned hawkish, the unwinding was vicious.
"When easy money disappears, the bubble disappears," Martin Adams said. "The foundation of the bubble .......
To read this article in Bloomberg News in its entirety, click here.