Fortune: Market is Plunging and Could Fall a Lot Further With the U.S. at the Center of a Huge Global Bubble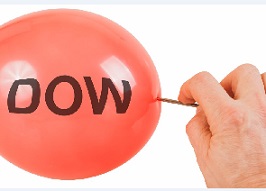 Article by Will Daniel in Fortune
A hotter-than-expected monthly inflation report threw the stock market for a loop on Tuesday, and a top executive at the world's largest hedge fund argues that it's just the beginning of the pain for investors.
In an interview at the SALT hedge fund conference in New York on Monday, Greg Jensen, the co-chief investment officer of Bridgewater Associates, said that the stock market hasn't fully priced in a recession, and that the U.S. is at the center of a global bubble that has yet to burst.
The co-CIO, who counts himself as a three-time member of Fortune's "Top 40 Under 40" rising business stars, made the case that investors are overestimating the Federal Reserve's ability to tame inflation, and ultimately, asset prices will continue to fall as a result.
"I think the biggest mistake right now is the belief .........
To read this article in Fortune website in its entirety, click here.