Business Insider: The Stock Market is in a Bubble That is Being Fueled by the Policies out of DC, Bank of America Warns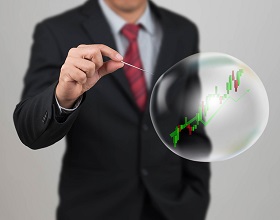 Article by Matthew Fox in Business Insider
The stock market is in a bubble that is being fueled by the policies out of Washington D.C., Bank of America said in a note on Friday.
"DC's policy bubble [is] fueling Wall St's asset bubble," BofA said, adding that a rise in inflation and interest rates could be on the horizon.
BofA is referring to the monetary policies out of the Fed, and fiscal stimulus policies from Congress. Since the COVID-19 pandemic, the Fed's balance sheet has expanded to record levels as they continue to buy fixed income securities. The Fed also lowered the Federal Funds Rate to just above 0%.
There are no signs that the spending policies out of D.C. are going to stop anytime soon, with President Joe Biden pushing ahead with a $1.9 trillion stimulus plan and an infrastructure spending package is likely next in line.
These stimulus policies have led the Fed balance sheet to hit 42% of US GDP, while the US budget deficit is set to hit 18% of GDP, according to BofA.
But the bubble can't go on forever, BofA noted, after highlighting that inflation is likely set to ....
To read this article in Business Insider in its entirety, click here.