Commodity Trade Mantra: Gold will Gain Momentum as Trust in Financial Markets Continues to Erode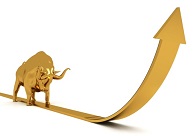 Article by Neils Christensen in Commodity Trade Mantra
Investors need to look past gold's current summer doldrums and focus on the yellow metal's safe-haven potential as trust in society and financial markets continues to erode, according to one fund manager.
In an interview with Kitco News, Ronald-Peter Stoeferle, fund manager of Incrementum said that the trust in the U.S. financial system is already being tested following the performance in the fourth quarter, which saw large-cap U.S. equities fall 13.5%, small-cap stocks fall more than 20%, gold prices rise more than 8% and gold equities rise nearly 14%. "For the first time in many years, the seemingly untouchable competitive advantage of stock markets has been seriously questioned. Gold has outperformed all major domestic equity markets," the firm said in its report.
Although the perception is that the US economy is "the least dirty shirt in the laundry," Stoeferle said that the economy is built on debt, which is not sustainable in the long run. The report noted that next year, "U.S. government debt will exceed the combined debt of Japan and the eurozone, despite the fact that absolute U.S. and Japanese debt were at similar levels until 2011, rising almost in step."
To read this article in Commodity Trade Mantra in its entirety, click here.