Washington Examiner: Stephen Moore Warns of Modern-day 'Great Depression' if Economy Doesn't Reopen Soon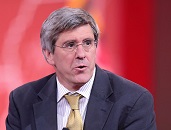 Article by Dominick Mastrangelo in Washington Examiner
Economist Stephen Moore predicted the country could be headed for a Great Depression if U.S. citizens recently unemployed due to the coronavirus are not sent back to work soon.
"If we go much past May 1, we are facing a potential Great Depression scenario," Moore said during a radio interview with New York City's 970 AM.
President Trump has extended social distancing guidelines to remain in effect until April 30.
Moore, a columnist for the Washington Examiner and former economic adviser to Trump, said the next several weeks will be critical for the U.S. economy in the long term.
"At some point soon, we're going to have to make some real decisions about what kind of a calamity we are causing through the lock-down of our economy," Moore said. "I'm not saying we should be inattentive to the public health concern. … But at some point, we have to worry about what we're doing to our society, and what kind of economy we're going to have after this is all over."
Nearly every state in the country has implemented stay-at-home orders and shuttered bars, restaurants, and other nonessential businesses as federal health officials urge the public to practice social distancing to slow the spread of the coronavirus.
More than 6 million U.S. citizens filed for unemployment benefits last week, and the national unemployment figure is expected to soon reach 10%.
To read this article in Washington Examiner in its entirety, click here.