Yahoo Finance: Morgan Stanley Warns Tariffs could Likely Lead to an Economic Recession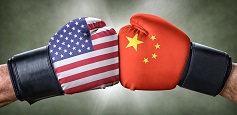 Article by Emily McCormick in Yahoo Finance
The latest tit-for-tat tariffs on Chinese imports have already taken a wrecking ball to stocks' gains. Now, some analysts are bracing for the impact to trickle out to the broader economy.
"The potential cost headwinds of 25% tariffs on all Chinese exports to the U.S. could be in the range of 1.0-1.5% of the index's net income," Morgan Stanley analyst Michael Wilson wrote in a note Monday. "But demand destruction and ailing confidence increase the potential impacts well beyond just higher costs and would likely lead to an economic recession in our view."
In the past, Wilson has repeatedly highlighted the likelihood of an "earnings recession," or a contraction in S&P 500 companies' bottom-line growth. With this thesis in mind, he's maintained that the S&P 500, at its near-3,000 level approached earlier this year, was probably overvalued.
But earnings recession aside, an increase in the prospect of increased trade tensions has also pulled up the probability of a full-blown economic recession, Wilson said.
"There are many signs that the risk of a recession in the next 12 months is rising," Wilson said. He pointed to proprietary indicators Morgan Stanley's Cross Assets team tracks, which last month "officially tipped over into the 'downturn' phase which has always preceded an economic recession."
To read this article in Yahoo Finance in its entirety, click here.