CNBC: Morgan Stanley Sticking by Bear Call for 2019, Sees Profits Disappointing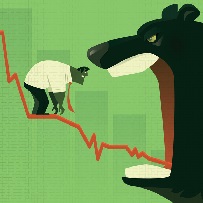 Article by Michelle Fox in CNBC financial
Morgan Stanley's Mike Wilson is sticking by his bear call — and isn't changing his mind about an earnings recession. "The earnings profit recession is real," he told CNBC on Monday.
"The mistake was not the Fed tightening last year. The mistake was … the timing of the fiscal policy stimulus, which overheated the economy last year."
Wilson, the firm's chief U.S. equity strategist, has repeatedly warned that investors could be caught in a "rolling bear market" for the next several years. In February, he said that the long-awaited earnings recession had arrived but that investors were still too optimistic.
Wilson was the most accurate Wall Street strategist tracked by CNBC in 2018. He's issued a streak of bearish calls about the S&P 500 and earnings performance over the past year.
To read this article in CNBC financial in its entirety, click here.