CNBC: Negative Rates Come to the US: 1-month and 3-month Treasury Bill Yields are Now Below Zero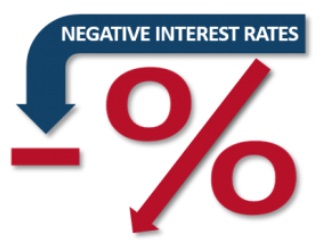 Article by Jeff Cox in CNBC financial
The coronavirus crisis has brought another first to U.S. financial markets — negative yields on government debt.
Yields on both the 1-month and 3-month Treasury bills dipped below zero Wednesday, a week and a half after the Federal Reserve cuts its benchmark rate to near zero and as investors have flocked to the safety of fixed income amid general market turmoil.
It was the first time that happened in 4½ years, when both bills briefly flashed red and yields fell to minus-0.002% each. The readings Wednesday were well below those. The one-month traded at minus-0.053% while the three-month was at minus-0.033% around 2:35 p.m. ET.
"This is part and parcel of the whole flight to quality thing," said Kim Rupert, managing director of global fixed income at Action Economics. "They're obviously the most liquid instrument. We saw a lot of selling pressure a few days ago when everyone was selling everything to get cash. But with all the plans the Fed has introduced, the bill market is much safer."
The U.S. now joins large swaths of Europe and Japan that also have negative-yielding debt.
Negative yields are largely a function of demand, as prices and yields move in opposite direction for bonds. Investors pay a large premium above par on the bonds and can receive less than their initial investment at maturity. Deposit rates also can be negative.
"There's no telling anymore in this environment. They could spread," Rupert said. "Everyone is expecting the Fed to be lower for longer, and I mean longer. The whole bias is for yields to go lower. I would not rule out the front end of the curve going negative."
To read this article in CNBC financial in its entirety, click here.