The New York Times: New Gold Rush Pushes Price to Record Highs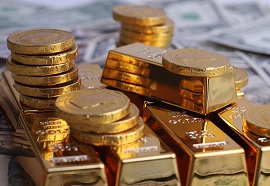 Article by Matt Phillips in The New York Times
Something shiny and bright is beckoning investors accustomed to the gloomy days of 2020: gold!
In recent days, gold prices have hit record highs. For the year, gold is up 27 percent, a performance that puts it ahead of most stock, bond and commodity markets.
On Monday, the price of gold futures on the New York Mercantile Exchange rose 1.8 percent to more than $1,931 an ounce.
The pandemic has pushed the global economy into one of the sharpest downturns on record. The International Monetary Fund predicts that this year, the world economy will shrink by nearly 5 percent. The plunge prompted central banks everywhere, most importantly the Federal Reserve, to pump hundreds of billions of dollars into financial markets, with the goal of propping up flailing economies.
But those billions aren't coming from a storehouse; rather, central banks are creating fresh currency. The increase in money supply lowers interest rates and raises the amount of a particular currency, such as the dollar, in circulation. And over time, these moves can both increase inflation (lower interest rates typically spur economic activity) and weaken the value of a currency.
Right now, investors are taking all of that into account and determining that buying gold — which is traditionally considered an investment that holds its value over time — is the best thing they can do to shield themselves from inflation and weakening of so-called fiat, or paper, currencies. As a result, money flows into gold investments have surged in recent months as central banks have stepped up their fight against the downturn.
something has happened over the last few months to change that gold-versus-bond calculus.
Since the Fed cut the short-term interest rates it controls to near zero, longer-term interest rates ...
To read this article in The New York Times in its entirety, click here.