Forbes: A Crisis Has Already Begun ... We Just Don't Know It Yet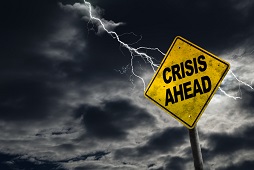 Article by John Mauldin in Forbes
Let's address an elephant in the room: the rapidly expanding federal debt. Each annual deficit raises the total debt and forces the Treasury to issue more debt, in hopes someone will buy it.
The US government ran a $343 billion deficit in the first two months of fiscal 2020 (October and November), and the 12-month budget deficit again surpassed $1 trillion. Federal spending rose 7% from a year earlier while tax receipts grew only 3%.
No problem, some say, we owe it to ourselves, and anyway people will always buy Uncle Sam's debt. That is unfortunately not true.
Foreign Treasury Buyers Are Turning Away
The foreign buyers on whom we have long depended are turning away.
Declining foreign purchases are, in part, a consequence of the trade war.
The dollars China and Japan use to buy our T-bills are the same dollars we pay them for our imported goods. But interest and exchange rates also matter. With rates negative or lower than ours in most of the developed world, the US had been the best parking place.
But in the last year, other central banks started looking for a Negative Interest Rate Policy (NIRP) exit. Higher rate expectations elsewhere combined with stable or falling US rates give foreign buyers—who must also pay for currency hedges—less incentive to buy US debt.
Both parties in Congress are committed to more spending. No matter who is in the White House, they will encourage the Federal Reserve to engage in more quantitative easing so the deficit spending can continue and even grow.
The next recession, whenever it happens, will bring a $2 trillion+ deficit, meaning a $40+ trillion-dollar national debt by the end of the decade, at least $20 trillion of which will be on the Fed's balance sheet. (My side bet is that in 2030 we will look back and see that I was an optimist.)
Sometime in the middle to late 2020s, we will see a Great Reset that profoundly changes everything you know about money and investing. Crisis isn't simply coming. We are already in the early stages of it.
I think we will look back at late 2019 as the beginning. This period will be rough but survivable if we prepare now.
To read this article in Forbes in its entirety and view the relating chart, click here.