Forbes: Reduce Stock Market Holdings With The Dow, S&P And Nasdaq In 'Inflating Parabolic Bubble' Formations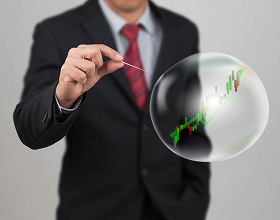 Article by Richard Henry Suttmeier in Forbes
The Dow Jones Industrial Average, S&P 500 and Nasdaq Composite set all-time intraday highs the day before Thanksgiving on November 27. All three have 12-week slow stochastic readings above 90 on a scale of 00 to 10,0 which is an extreme overbought reading called an "inflating parabolic bubble" formation.
When these readings are seen it's a warning to reduce holdings in the stock market as the downside risk is 20% to 60% as the bubble pops. It's much easier to sell stocks on strength than to sell stocks on weakness.
When I screened the 30 stocks in the Dow 30 after November ended, the four momentum leaders through the first 11 months of 2019 are in "inflating parabolic bubble" formations. The reading for Apple (AAPL) is 96.50; it's 94.10 for JPMorgan Chase (JPM); 90.21 for Microsoft (MSFT) and 93.16 for United Technologies.
There is not a single Dow stock that I would recommend as a buy as December begins.
Book profits now! Your allocation to Dow stocks should be reduced to at least 50%.
To read this article in Forbes in its entirety, click here.