Bloomberg News: Powell Breaks Out the 'Froth' Word When Asked About Markets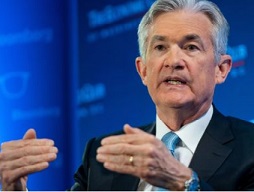 Article by Katherine Greifeld and Vildana Hajric in Bloomberg News
Parts of the markets "are a bit frothy, and that's a fact," says Jerome Powell. While he didn't specify which, you don't have to look too far for candidates.
The Federal Reserve chairman answered "some of the asset prices are high"when asked if things like GameStop Corp.'s and dog-affiliated joke cryptocurrency Dogecoin's supercharged rallies created threats to financial stability. Powell said asset prices were a factor in how the central bank assess stability, but not the only one.
"I won't say it has nothing to do with monetary policy, but also it has a tremendous amount to do with vaccination, and reopening of the economy, that's really what has been moving markets a lot in the last few months," Powell said Wednesday after the central bank left rates unchanged.
Froth or not, the chairman made it clear he has no intention of turning off the taps any time soon.
Here's a look at some of the market's frothy corners:
Sky-High Valuations
At more than 30 times reported earnings, the S&P 500 trades at a multiple that exceeds the highs during the dot-com era. Similar warnings are also flashing in the "Buffett Indicator," a ratio of the total market capitalization of U.S. stocks to gross domestic product.
Some of the most stretched valuations can be found in tech stocks, the undisputed leaders since the pandemic hit. Judging by projected earnings, the forward price-earnings ratio for S&P 500 tech shares ended last week at 27, according to data compiled by Bloomberg. That means the sector is 22% more expensive than the ......
To read this article in Bloomberg News in its entirety, click here.