CBS News: Fed Chairman Jerome Powell Warns of Widespread Bankruptcies in "Prolonged" Recession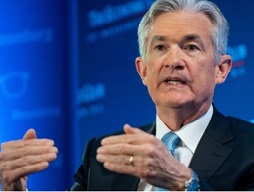 Article by Christopher Eugaber in CBS News
Federal Reserve Chair Jerome Powell warned Wednesday of the threat of a prolonged recession resulting from the viral outbreak and urged Congress and the White House to act further to prevent long-lasting economic damage.
The Fed and Congress have taken far-reaching steps to try to counter what is likely to be a severe downturn resulting from the widespread shutdown of the U.S. economy. But Powell cautioned that numerous bankruptcies among small businesses and extended unemployment for many people remain a serious risk.
"We ought to do what we can to avoid these outcomes," Powell said.
Additional rescue aid from government spending or tax policies, though costly, would be "worth it if it helps avoid long-term economic damage and leaves us with a stronger recovery," he said.
Impact on the Economy:
Powell spoke a day after House Speaker Nancy Pelosi, a California Democrat, proposed a $3 trillion aid package that would direct money to state and local governments, households, and health-care workers. This money would come on top of roughly $3 trillion in earlier financial assistance that the government has provided. The Fed itself has also intervened by slashing interest rates to near zero and creating numerous emergency lending programs.
Powell, though, made clear his concern that a recession may last long enough to cause extensive damage to the economy and make a recovery weaker and slower.
In such a scenario, unemployed workers would lose skills and their connections in the job market, making it harder for them to find new employment. And with many small businesses bankrupt, fewer companies would be available to hire the jobless.
"Deeper and longer recessions can leave behind lasting damage to the productive capacity of the economy," the chairman warned.
He said the Fed would "continue to use our tools to their fullest" until the viral outbreak subsides. He gave no hint of what the Fed's next steps might be.
To read this article in CBS News in its entirety, click here.