Yahoo Finance: Why the Stock Market is One or Two Bad Economic Reports Away from a Collapse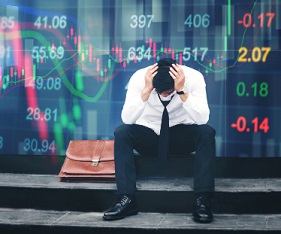 Article by Brian Sozzi in Yahoo Finance
Investors need to wake the hell up!
Just because the market is "holding up well" during the past month or so of dreary trade war headlines doesn't mean everything is fine and dandy. The signs are starting to build that the global economy is cooling down more quickly than many balding pundits and aging stock price predictors would have investors to believe.
Consequently, valuations on stocks are well overdue for a significant haircut. Not the drip, drip, drip BS investors have endured the past month — the S&P 500 and Dow Jones Industrial Average are "only" down 3.8% and 4.1%, respectively, since late April.
Think 10% nosedive, or more. In other words, a classic collapse.
Ignore the signs at your own risk
Investors entered the post Memorial Day long weekend oddly still feeling pretty good. The Dow just capped off its fifth straight weekly loss, the first time that has happened since 2011. Yet, there remains this hope the market rally will soon return and the declines of late are normal given the uncertainty around global trade.
"It just seems to us that the level of uncertainty has gone up dramatically over the past 3 weeks... and this uncertainty is not going to calm itself soon," Maley contends.
In this type of slowing environment, Corporate America is unlikely to announce bang up second quarters and is at risk at cutting their 2019 outlooks. I encourage all investors to listen to recent earnings calls from Target, Walmart, Deere, Macy's and Best Buy to get a sense of the real profits the trade war is stealing.
That has to get priced into stocks, it's that simple.
To read this article in Yahoo Finance in its entirety, click here.