Market Watch: Stock-market Legend Who Called 3 Financial Bubbles Says This One is the 'Real McCoy,' This is 'Crazy Stuff'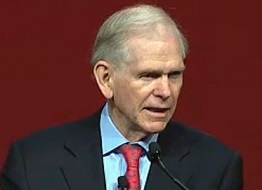 Article by Mark DeCambre in Market Watch
'My confidence is rising quite rapidly that this is, in fact, becoming the fourth, real McCoy, bubble of my investment career. The great bubbles can go on a long time and inflict a lot of pain but at least I think we know now that we're in one. And the chutzpah involved in having a bubble at a time of massive economic and financial uncertainty is substantial.'
That is Jeremy Grantham, co-founder and chief investment strategist at Boston-based money manager Grantham, Mayo, Van Otterloo & Co., offering up a stark warning to speculators driving the stock market to new heights amid the greatest pandemic of the past century.
"This is really the real McCoy, this is crazy stuff," said Grantham during a Wednesday afternoon interview on CNBC that appeared to knock some of the stuffing out of a market that had been drifting along listlessly on Wednesday.
Gratham painted a very dire picture of the investment landscape in the U.S., suggesting that rampant trading by out-of-work investors and speculative fervor around bankrupt companies, including car-rental company Hertz Global Holdings Inc., reflects a market that may be the most bubblicious he's seen in his storied career.
Grantham is worth paying attention to due to his prescient calls over the years. He said that stocks were overvalued in 2000 and again in 2007, anticipating those market downturns, the Wall Street Journal reports. Grantham also signaled that elements of the financial market had become unmoored from reality leading up to the 2008-09 financial crisis.
Asked what level of exposure investors should have to U.S. equities, Grantham offered an unflinching view that may leave some bulls gobsmacked.
"I think a good number now is zero and less than zero might not be a bad idea if you can stand that."
The investment expert noted that ...
To read this article in Market watch in its entirety, click here.