Money & Markets: Jim Rogers Warns the Worst Bear Market Is Coming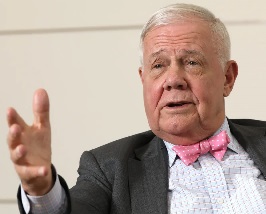 Article by Eugene Townes in Money & Markets
No-nonsense economic guru Jim Rogers restated his concern that a bear market was on the way, and investors should be on the lookout for small signs to avoid another crisis like 2008.
I am not investing in US stock market because I expect problems to come in the next year or two.
In the US market, some of the stocks like Apple and Google go up every day. They never go down, which is a dangerous sign in any stock markets. When you have a few stocks always going up and the movement has been concentrated and that seems to be what is happening in the US stock market.
It has been over 10 years since we had a serious bear market in the United States. I would suspect by the end of this year or next year, it will start. These things always start small, where people are not looking and then they work to the major markets, and then you see them on the major news.
To read this article in Money & Markets in its entirety, click here.