Market Watch: Former IMF Chief Economist Says Fed's Bond-buying is 'Smoke and Mirrors,' Doesn't Solve U.S. Debt Problems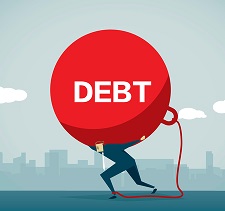 Article by Sunny Oh in The Wall Street Journal Market Watch
The Federal Reserve's massive bond buying to stabilize financial markets in the wake of the coronavirus pandemic does not change the fact that the U.S. still has to deal with a mountain of debt, warned former IMF chief economist Ken Rogoff.
Noting the Fed's willingness to expand its balance sheet has helped to convince market participants to keep buying U.S. Treasury debt as the fiscal deficit soars, Rogoff said the central bank's purchases did not change the overall stock of public debt.
"It's absolute smoke and mirrors. There's almost zero difference from the Fed buying long-term Treasury debt and having the Treasury issue short-term bonds," said Rogoff, in an interview. "I think people forget that the Treasury owns the Fed."
The Congressional Budget Office has estimated that the fiscal deficit will rise to about $3.7 trillion this fiscal year or about 18% of GDP. The federal debt held by the public is also seen rising to more than 100% of gross domestic product from about 80% at the end of last fiscal year.
The Federal Reserve's balance sheet grew to a record $6.98 trillion in the week ended May 13, up from $6.72 trillion in the prior week.
"The debt is not a free lunch. The question is what happens to real interest rates. The market thinks it'll never go up again and I think that's a bit naive," Rogoff added.
"There is a presumption in markets for a long time that any shock will bring interest rates down. That's been the trend, but we just have no idea where we're going after this. There's a definite risk there will be pressure some day," he said.
To read this article in Market Watch in its entirety, click here.