Bloomberg News: Sorry Savers, Banks Don't Want Your Money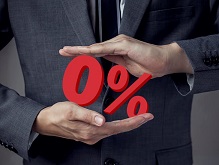 Article by Robert Burgess in Bloomberg News
Savers are about to learn one painful and one surprising lesson about interest rates and banks.
First, just because the Federal Reserve is raising rates doesn't mean the rate investors earn on their cash will rise as much — if at all.
In fact, the financial repression in the form of zero rates suffered for more than a dozen years by those who are ultra conservative with their savings isn't going away soon.
Second, banks don't want your money. Understanding these dynamics why, will go a long way toward explaining why the stock market and other riskier assets may prove resilient to the tighter monetary policy that is coming as the Fed seeks to bring down the highest rates of inflation in 40 years.
The problem for savers now is that the Fed also took the added step of pumping money directly into the financial system by buying bonds in the secondary market through a program known as quantitative easing. The Fed's balance sheet assets have risen from less than $1 trillion in 2008 to about $9 trillion now, more than doubling in size since the start of the pandemic alone as the central bank accelerated the purchases to help support the functioning of the financial system. At the same time, the government pumped trillions of dollars directly into the pockets of consumers and the coffers of businesses to help them weather the lockdowns.
The result was an explosion in the money supply, from less than $8 trillion to some $22 trillion at last count in February. Checkable deposits for households and nonprofit organizations rose to $4.06 trillion in December from $1.16 trillion at the end of 2019 and about $200 billion in 2008, according to the Fed. Surplus liquidity at banks — or the amount by which deposits exceed loans — surged to more than $7 trillion from $3 trillion in 2019 and around $250 billion in 2008.
In short, banks have more money than they know what to do with, and they don't need or want any more of yours. This can be seen in the rates banks are offering for federally insured two-year certificates of deposit, which average only 0.39%, according to Bankrate.com, despite yields on two-year U.S. Treasury notes having surged from less than 0.15% last year to a recent 2.70%. Historically, the two rates have tended to move in tandem with scant difference. The gap is now the widest on record.
It's the same with money market funds. Consider the $210 billion Vanguard Federal Money Market Fund, one of the largest funds of its kind. It's yielding a minuscule 0.22%, which is more like a loss of 8% after taking into account the current annual rate of inflation. And yet .......
To read this article in Bloomberg News in its entirety, click here.