CNBC: Cramer Says He Does Not See Anything in July Jobs Report that Makes Him 'Feel Confident'!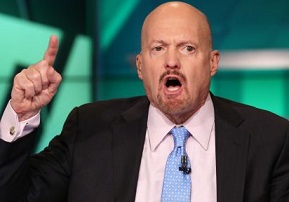 Article by Kevin Stankiewicz in CNBC financial
CNBC's Jim Cramer said Friday that he remains cautious about the U.S. economic recovery from the coronavirus even after July's employment report showed an addition of nearly 1.8 million jobs last month.
"I don't see anything here that makes me feel confident," Cramer said on "Squawk Box," referencing the sectors that showed strong employment gains, such as eating and drinking establishments, which rose by 502,000, and retail, which added 258,000 jobs.
"Drinking places are all being shut. That is just a huge part of the equation," said Cramer. "They had the nonessential [retailers] come back. Well, how are those guys doing? Horribly. I suspect that we'll see big layoffs there."
Overall, the U.S. unemployment rate fell to 10.2% from its previous mark of 11.1% in June, exceeding economists expectations. However, Cramer said he is worried that any indications of progress could be threatened by the persistence of the coronavirus in the U.S.
"I've been completely focused on the idea that you should open up America with masks and with social distancing. But these numbers show you that if we close it, if we do have too many hot spots, we're right back down," he said. "I'm not as encouraged as other people about this."
The "Mad Money" host pointed to ....
To read this article in CNBC in its entirety, click here.