Bloomberg News: Silver Rises Above $20 an Ounce for First Time Since 2016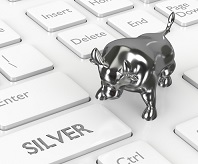 Article by Justina Vasquez, Krystal Chia, and Ranjeetha Pakiam in Bloomberg News
Silver futures are latching on to gold's rally, climbing above $20 an ounce to the highest since 2016 on rising haven demand and concerns about supply of the white metal.
Gold and silver have surged this year as the coronavirus pandemic roiled the global economy, spurring sustained demand for havens even as some lockdowns were eased. The outbreak has yet to be brought under control in many countries including the U.S., bolstering the case for holding the metals.
Silver, which just completed its best quarter since 2010, is getting an extra boost from concerns over supply and bets on increased industrial demand for the metal, used in solar panels and other manufactured products. Of 275 disrupted mining operations globally, the most affected were gold and silver mines, according to S&P Global Market Intelligence. In Latin America, where much of the world's silver is produced, the pandemic has worsened, with Mexico recently overtaking Italy in the number of virus-related deaths.
"Silver will continue to be pulled higher by the strong gold price and supportive financial conditions," Morgan Stanley said in a second-half outlook that listed silver as its No. 2 pick, after copper. "As real demand also recovers through the second half of the year, this will add further impetus to silver's price, narrowing the gold-silver price ratio slightly."
"Silver is currently trading at close to a record discount to gold, which should attract demand," Goldman Sachs Group Inc. said in a note this month. "Silver often tends to lag gold at the beginning of a precious rally, and catch up to it as the rally continues and investors look for ways to diversify."
Unlike gold, silver's price is largely driven by ...
To read this article in Bloomberg News in its entirety, click here.