Yahoo Finance: Industrial Demand for Silver Rebounding to a New High in 2021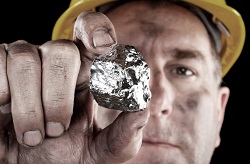 Article by The Silver Institute in Yahoo Finance
Physical Silver Investment Forecast to Jump by 32% in 2021 for a 6-Year High
Every key area of silver demand is forecast to rise in 2021, including a record total for industrial demand, despite ongoing supply chain challenges, reported Philip Newman, Managing Director at Metals Focus, and Adam Webb, Director of Mine Supply, during the Silver Institute's Interim Silver Market Review webcast today, which featured historical supply and demand statistics and estimates for 2021.
The following are the key highlights from the presentation:
With each significant component of silver demand forecast to rise in 2021, global silver demand is set to reach 1.29 billion ounces, the first time it has exceeded 1 billion ounces since 2015.
The recovery in silver industrial demand from the pandemic will see this segment achieve a new high of 524 million ounces. In terms of some of the key segments, we estimate that photovoltaic demand will rise by 13% to over 110 million oz, a new high and highlighting silver's key role in the green economy. This will also underpin much of the forecast 10% gain in electrical/electronics offtake.
Physical investment in 2021 is on course to increase by 32%, or 64 million oz, year-on-year to a six-year high of 263 million oz. The strength will be driven by the US and India. Building on solid gains last year, US coin and bar demand is expected to surpass 100 million oz for the first time since 2015. Growth began with the social media buying frenzy before spreading to more traditional silver investors. Indian demand reflects improved sentiment towards the silver price and a recovering economy. Overall, physical investment in India is forecast to surge almost three-fold this year, having collapsed in 2020.
This year, the silver price has built on its 2020 gains and has continued to strengthen. Through November 10, prices have risen by 28% year-on-year. This follows a 27% rise for the annual average price in 2020. The upside reflects healthy investor inflows into silver, on the .......
To read this report in Yahoo Finance in its entirety, click here.